Services
Treatments

Adjustments/ Manipulation
The treatments of choice to correct subluxations (misalignments) and fixations (reduced joint motion) of the spine which may cause "pinched", irritated, or inflamed nerves. Symptoms are acute or chronic pain with irregular early wearing out of joints called arthritis.
Subluxation
There are many causes of pinched or irritated nerves. The subluxation is one common problem that is often overlooked in most other forms of treatments. A subluxation, because of proximity to nerves, can cause pinched nerves with symptoms similar to disc herniations or bone spurs, but are often more easily corrected. When an MRI or CT Scan is negative a subluxation can be the cause of the problem.
Rehabilitation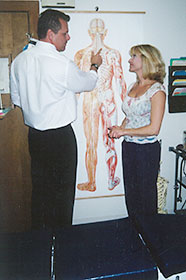 The doctor first reviews the x-ray and exam results to determine the course of treatment. We start most, if not all, patients with a program of chiropractic care and give stretching procedures to be done at home. These exercises keep the joint muscle complex from tightening back up between visits. When spasms and inflammation are sufficiently reduced, we custom design a program of rehabilitative exercises for the spine and extremities (knees, shoulders, etc.) involved to tighten and strengthen the weakened or injured joints in order to provide lasting results. Also congenital or postural abnormalities can be structurally improved. These exercises are shown to each patient and then can be done at home.
A little rehabilitation can go a long way to changing a your back (joints), so the more you do the stronger the you become. A word of caution though; the wrong exercises started at the wrong time (when there is too much spasm and inflammation) can actually cause more pain. So we bring our patients through the proper phases of:
spasm and inflammation reduction

rehabilitative/corrective care

supportive care

wellness care.
We don't want you returning with the same problem, but instead want to correct the structural weakness and show you how to keep it that way. This I find rewarding and so do many patients.
Decompression/Flexion Distraction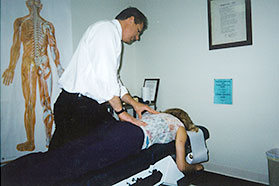 Technique for decompression of of herniated, ruptured or bulging discs. This procedure has been successful at preventing unwanted surgery as well as for patients with failed back surgery syndrome.
Flexion Distraction manipulation decompresses the disc by applying a gentle pulling open of the joints of the spine, usually in a series of repetitive slow movements without quick movements or thrusts. The procedure is often used for people with disc problems, but can also be used in other ways, such as to gently mobilize joints.
Flexion Distraction Technique uses a table to restore normal physiological range of motion to the cervical, thoracic and lumbar spinal joints. Flexion Distraction manipulation is a gentle, non-force adjusting procedure which works with the body's natural design to aid it in healing properly. Additional goals of the Flexion Distraction adjustment include transfer of metabolites into the spinal disc, decreasing intradiscal pressures and decompressing inflamed/compressed spinal nerve roots.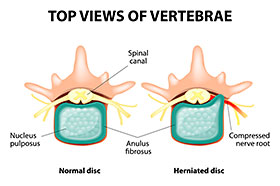 At Chiropractic Southeast, we have been providing patient treatment for herniated discs for 15 years. I have been certified in this specialized type of treatment as well as treating failed (or recurrent) back surgeries. The traditional chiropractic treatment may not be appropriate for those cases, so this treatment requires special equipment and training. Other common terms for those disc injuries can be disc bulges, protrusions, ruptures, extrusions or prolapses. The last 3 terms are usually used when the jelly like substance in the center of the disc, called the nucleus, has completely torn outside of the disc where it can cause serious nerve or spinal cord complications. These are usually more difficult requiring very careful examination and monitoring during the treatment process. Most often with these cases it is necessary to have these patients co-managed with a neurologist and or neurosurgeon in the event surgery is needed.
Even with the more common type of disc herniations we will refer to patients to neurologist for special nerve testing to document the type and location of any nerve damage and then the subsequent healing.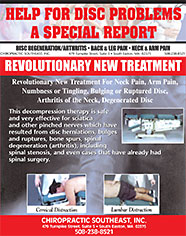 The last couple of years have seen a lot of attention given to the newer computerized decompression tables. This is because they can provide more decompression taking the pressure off the disc and reducing the herniations many times. Some of the more sophisticated machines like the 3D Active Trac can also decompress the disc in 3 dimensions as well as being computerized. What this means is we can match the distortion or antalgia (leaning forward and/or to the side) that the patient is forced into because of the pinched nerve. This allows for more comfort with the treatment (most feel good on the table) and more efficient decompression of the disc and release of the entrapped nerve. The unique table allows us to laterally bend, rotate, flex or extend the neck or back as the disc and nerve needs during decompression to release the entrapment and ease pain. Other types of equipment only offer straight or flexed decompression.
If you have a herniated disc or the like, it makes sense to try this new technology first and find relief without resorting to drugs or surgery. If you are not responding, we can always ask the surgeon to take over. We should know within a few weeks. Studies have shown an 86% effective rate for decompression. Click here to learn more about this technique.
Headaches/Migraines/Cluster Headaches
We do treat a lot of disc herniations, sports injuries and arthritis, however I do have another area of special interest… headaches.
I was 12 years old and suffering with migraines and had several injuries as a kid to my head and neck. (I was a regular, for a while, at the Goddard Hospital X-Ray Department.) The head pain was debilitating at times. When my dad's chiropractor found out, while I was watching my dad get his treatment, he said he might be able to help. He checked my upper neck and found a subluxation/misalignment at the first two vertebras. This, he said was pinching the nerve which goes up into the head (the Greater Occipital Nerve). This is called Greater Occipital Neuritis and can shoot across the head even into the temple and eye, as in my case. Well, after a handful of treatments, I decided to become a chiropractor. I was so impressed with how he had "cured" my migraines without drugs, surgery or any invasive procedure. I actually started writing to the college he went to, Palmer College of Chiropractic in Iowa, and getting books from them on chiropractic. I never changed my mind since 12 years old.
I have had a handful of relapses with the headaches, each time from injuries, but each time they have been completely cleared by chiropractic
I did read a statement for an MD that specialized in headaches a few years back. He said 90% of all headaches are caused form the upper neck (as were mine). Chiropractors have been saying this for over 100 years. 90% is a huge number of people that may be suffering needlessly. As I often say to patients, "headaches are a pet peeve of mine." I have developed several techniques over the 18 years I've been in practice for relieving this life altering problem.
If you suffer from headaches, cluster headaches or migraines you should be checked to see if you are one of the 90% who may be helped by addressing problems in the upper neck as I was.
Take advantage of the complementary consultation, I can usually put my finger on where the problem is and the patient often will feel their headache coming from it.
Massage Therapy – Benefits of Muscular Therapy
Muscular Therapy provides a wide range of benefits including (but not limited to) increased range of motion in joints, improved mobility and flexibility, decreased tension and muscle stiffness, reduced pain from chronic or acute injuries. Massage therapy increases circulation of blood and lymph, reduces stress and induces the relaxation response which stimulates the release of endorphins – a natural pain killer. Massage Therapy helps to speed recovery time, and, in conjunction with chiropractic treatments, will provide you with optimal health and well being.
At Chiropractic Southeast, a Muscular Therapy Treatment is designed and geared to meet the needs of each individual client by our licensed and trained massage therapists. Each Session consists of a combination of massage techniques including deep tissue work, trigger point, neuromuscular therapy and myofascial release along with stretching and self-care education.